---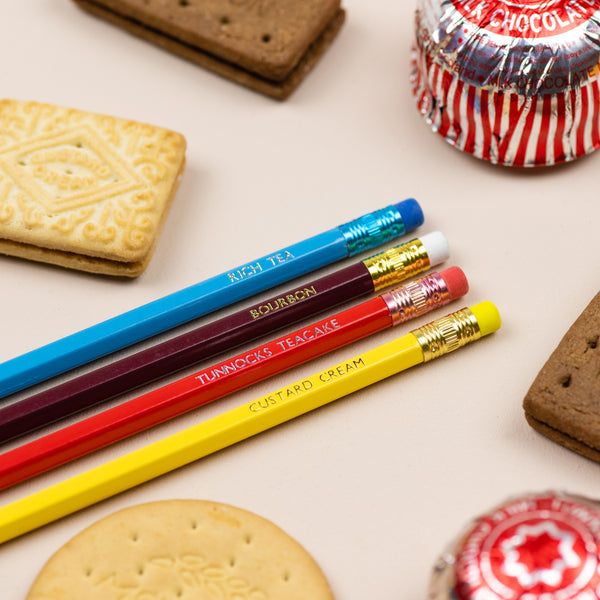 It's constantly snack time with this pencil gift set of four printed pencils with the names of four of your all time biscuit faves. The names of the sweet treats are stamped in shiny foil on the brightly coloured 2B pencils, giving the writer that little bit of added motivation they need to get to break time.
 Biscuit Pencil Texts:
BOURBON
TUNNOCKS TEACAKE
RICH TEA
CUSTARD CREAM
If the reminders of biscuits are distracting and the writer makes a mistake, they can easily fix it by using the high quality rubber on the end of the pencils, which don't leave any dodgy marks on paper. The pencil gift set is perfect for that co-worker who's always first in the break room at tea time, or for the self-aware biscuit lover.
If these biscuits aren't the ones that tickle your taste buds, let us know with a note during checkout and we can always include your favourite!
 Biscuit Pencils Gift Set Includes:
Four unsharpened 2B pencils with erasers
Blank cardboard gift box
 This set of biscuit pencils is one of the many printed pencil gift set options available from the Pencil Me In stationery store in Scotland, which also stocks stacks of paper products and gift items.